Tools for sidetracking. Fishing, milling and cleaning equipment. Tools for coiled tubing units. 
"BITTEKHNIKA" LLC was founded in 1996. Through all these years of successful experience we have developed a sustainable manufacturing system of oilfield equipment. 
0
Hydraulic Tubing Anchor YAGT
Application

The Hydraulic Tubing Anchor YAGT is designed to fix body of screw downhole motor during its operation. It eliminates axial throw and turn under the influence of counter torque. The anchor is used for operations in
assembly with downhole motor and internal hydraulic pipe cutter TVG. It can also be used for other technological operations. The assembly with anchor is lowered into the well on small-size pipes or from coiled tubing units.

Design

The Hydraulic Tubing Anchor consists of a body, holddown slips pressed by springs, which are fixed by planks by means of screws and sealing elements.
The anchor is set above downhole motor. Under the pressure of increasing drilling fluid rate slips move out of the body. After that slips are fixed on the internal wall of the pipe. When the circulation goes down, pressure decreases and slips move back into the body (transport position). 
Images and Dimensions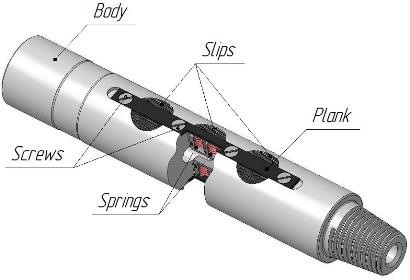 You can specify the size of an item on the checkout page.
Add to cart