Tools for sidetracking. Fishing, milling and cleaning equipment. Tools for coiled tubing units. 
"BITTEKHNIKA" LLC was founded in 1996. Through all these years of successful experience we have developed a sustainable manufacturing system of oilfield equipment. 
0
Mechanical Petaled Junk Basket type PML
Application
Mechanical Petaled Junk Basket type PML is designed to retrieve different pieces (roller-cutters and bearings of drilling bits, cutter arms, cable pieces, metal fragments) from bottom hole.
The principle of operation of this product is to catch object from the bottom of the well into the internal part of Junk Basket and fix it inside when creating an axial load down and deformation of the petals (grabs) inward.
Mechanical Petaled Junk Basket is a cylindrical body with a connecting thread on one side and petaled elements (grabs) on other. The length of the teeth is about ¾ of the diameter of the pipe from which the «basket» is made. In the upper part of the body, a sub is installed on the thread or the weld to connect with the fishing string. 
Images and Dimensions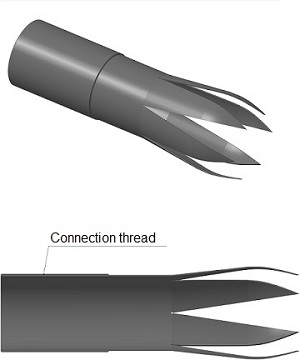 You can specify the size of an item on the checkout page.
Add to cart